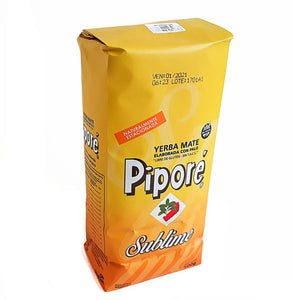 YERBA MATE WITH STEMS "Piporé Sublime"  - 1.10 Lbs Package
 Piporé "Sublime" is an excellent yerba mate and top of the line product of the company. It is a great choice for starters and experienced drinkers. The grinding has larger and thicker leaves while decreasing the amount of sticks and powder. As a result, we have a high quality yerba with toasted and chocolate notes. Highly recommended for those who enjoy brands like "Playadito" "Liebig" and "Amanda". Also for those who are looking for a not too bitter yerba mate.
Cooperative "Santo Pipo" was founded in 1933, producing yerba mate for other companies at that time. In the early sixties the cooperative finally produced its own brand. Enjoy it! You will not be disappointed.