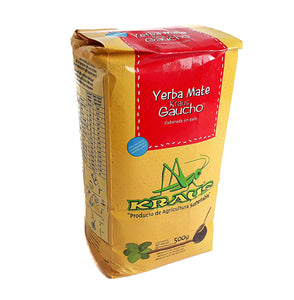 100 % NATURAL - WITHOUT AGROTOXICS OR CHEMICALS - UNSMOKED
FLAVOR GENERAL CHARACTERISTICS
Here is the strong, without stems, version of Kraus. An extremely well balanced yerba. This is a powerful mate but yet with a gentle aftertaste. As soon as you open the package you get a strong and full character sent from the yerba, but when you drink it, you feel the suttle and aromatic unique personality of this yerba mate.  It has a fresh & clean aroma. 
Rosamonte, Taragui and Cruz de Malta drinkers will love this brand. This yerba mate is also an excellent pair for your meals.
YERBA MATE CHARACTERISTICS
Production: This ia an organic yerba mate. Organic teas have no pesticides, herbicides or fungicides. Also, they do not have artificial flavors or ingredients of any kind. The packaging material that is used with the organic teas is also organic, as the paper that is used is recycled and biodegradable and the ink is water based.
Origins: Produced by a small and independent producer in Misiones, the land of the Yerba Mate.
Aging: Usually the aging process for the organic teas are longer than the regular therefore the flavor and aroma is better. It also makes the yerba mate less acidic.