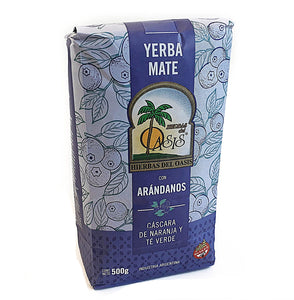 HIERBAS DEL OASIS SUPER ANTIOXIDANT YERBA MATE!
FLAVOR GENERAL CHARACTERISTICS
This is an excellent Yerba Mate enhanced with blueberries, natural orange peel & green tea. Perfectly balanced, not overwhelming. A hard thing to achieve in flavored yerbas.
YERBA MATE CHARACTERISTICS
Production: This ia an organic yerba mate. Organic teas have no pesticides, herbicides or fungicides. Also, they do not have artificial flavors or ingredients of any kind. The packaging material that is used with the organic teas is also organic, as the paper that is used is recycled and biodegradable and the ink is water based.
Origins: Produced by a small and independent producer in Misiones, the land of the Yerba Mate.
Aging: 24 months. Usually the aging process for the organic teas are longer than the regular therefore the flavor and aroma is better. It also makes the yerba mate less acidic.