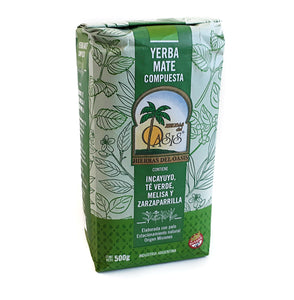 HIERBAS DEL OASIS WITH HERBS IS PERFECT FOR PEOPLE LOOKING FOR AN EXTRA BOOST ON THEIR YERBA MATE
FLAVOR GENERAL CHARACTERISTICS
This is an excellent Yerba Mate enhanced with the following natural herbs: sarsaparrilla, incayuyu, melisa & green tea. 
Sarsaparilla contains vitamin C, B-complex (especially B-6), calcium, iron and other trace minerals. Sarsaparrilla increase circulation,vitality and virility, clear toxins and stimulate metabolism Although no research supports its use as a muscle strengthening herb, many weight trainers continue to use Sarsaparilla to enhance muscle growth.
Incayuyo (incan tea) is good against gonorrheal infection, stomach, colds, headache.
Melisa (lemon balm) is a lemon scented perennial. Oval toothed leaves and minor yellow flowers are produced in auxiliary clusters in summer. The dried leaves, as well as the essential oil are used. It is an aromatic herb with cooling and sedative properties, lowering fever, improving digestion, relaxing spasms and improving peripheral blood vessels. It helps with hyperthyroidism, while having anti-viral, anti-biotic and insect-repellent effects.
Green Tea: Highly recognized by consumers, is also one of the added herbs!
YERBA MATE CHARACTERISTICS
Production: This ia an organic yerba mate. Organic teas have no pesticides, herbicides or fungicides. Also, they do not have artificial flavors or ingredients of any kind. The packaging material that is used with the organic teas is also organic, as the paper that is used is recycled and biodegradable and the ink is water based.
Origins: Produced by a small and independent producer in Misiones, the land of the Yerba Mate.
Aging: Usually the aging process for the organic teas are longer than the regular therefore the flavor and aroma is better. It also makes the yerba mate less acidic.