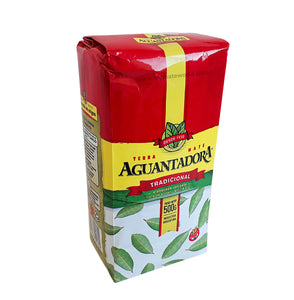 YERBA MATE WITH STEMS "Aguantadora" Tradicional - 1.10 Lbs Package
 This 18 months aged yerba is one of the best regular brands you will find around. Milling is perfectly balanced. It has a medium intensity and the more you drink it the "sweeter" it becomes. Produced by cooperative "Monte Carlo Limitada", which has been in business since 1930.
In 2016 "Aguantadora" won the "Caminos y Sabores" prize for best yerba mate of the year. Every year, "Caminos y Sabores" rewards the best regional argentine products with the "Experiencias del Sabor" contest.
There, a group of professional tasters choose the best cheese, dulce de leche, yerba mate, craft beer and olive oil from the country.
TRY IT NOW!