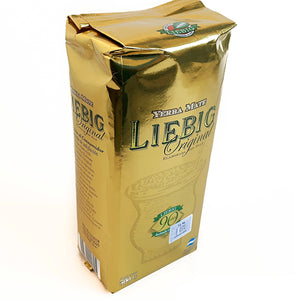 YERBA MATE WITH STEMS "Liebig"  - 1.10 Lbs Package
LIGHTLY SWEET & TOASTY
 If you already know and love "Playadito" you simply can not miss this one. This yerba is the top of the line Cooperative Colonia Liebig produces. It was conceived at the time the Cooperative celebrated its 80th anniversary (almost 10 years ago) to honor the memory of its pioneers. Now they are about to celebrate its 90th anniversary on December 19th, 2016. To achieve this high quality yerba, the harvest is made in winter when the leaves are at their peak ripeness. 18 months aging. Specially packed with a paper that keeps moisture and external aromas out. A must for those who prefer less bitter versions of yerba mate.
This yerba is produced in limited quantities. As a result, it´s not easy to find, even in Argentina.
Since the late nineteenth century, successive contingents of immigrants came to Argentina. Among them, a group of German colonists settled in the northeast of the Province of Corrientes founded Colonia Liebig, Ukrainian and Polish immigrants who were residing in the colony of Apostles for some years before joined. The founders of Cooperativa Liebig brought the project to found a cooperative to procure progress as a result of a joint effort and a wealth equitably distributed.