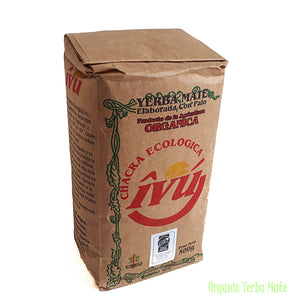 ORGANIC CERTIFIED "IVÚ" YERBA MATE
 1.10LBS Package
This is a soft, gentle, yerba mate. A great choice for those who don´t show tolerance for bitterness in yerba mate, do not like yerbas with too much character and beginners. Very first sips suggest an easy and perhaps a "too soft" brand but this is where "IVÚ" proves you wrong. A complex taste (still gentle) hides in the bottom and takes you by surprise as you keep drinking. Reminds in a way old versions (and good!) of "Mision Natural" and "Jesper".
SOFT, DELICATE, COMPLEX & GENTLE FLAVOR
YERBA MATE CHARACTERISTICS
Production: This ia an organic yerba mate. Organic teas have no pesticides, herbicides or fungicides. Also, they do not have artificial flavors or ingredients of any kind. The packaging material that is used with the organic teas is also organic, as the paper that is used is recycled and biodegradable and the ink is water based.
Origins: Produced by a small and independent producer in Misiones, the land of the Yerba Mate.
Aging: Usually the aging process for the organic teas are longer than the regular therefore the flavor and aroma is better. It also makes the yerba mate less acidic.